Solution Groundtek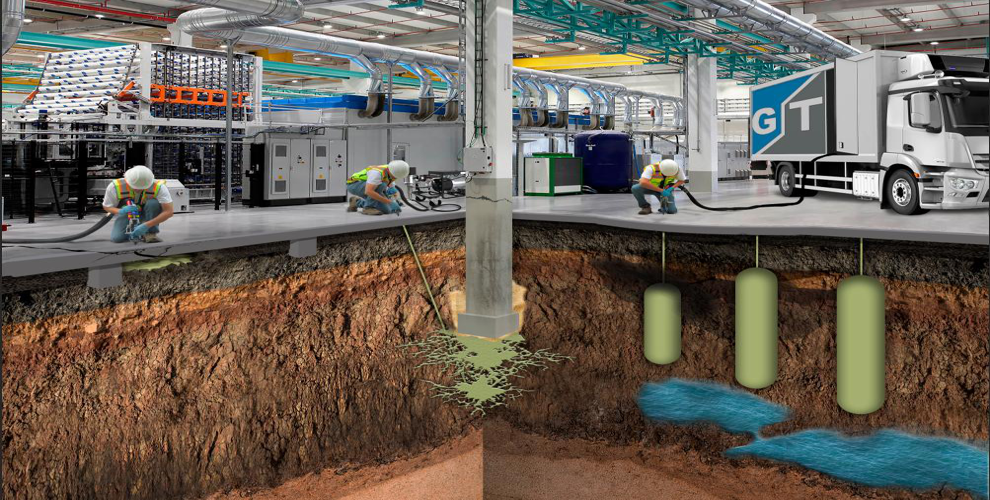 TRADITIONAL UNDERPINNING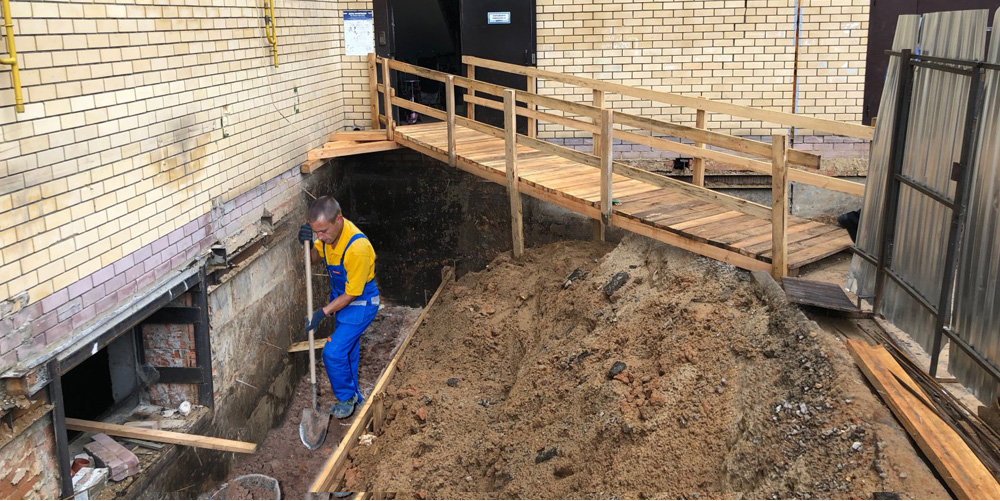 done Drill tiny holes into ground around property (8-32 мм);
done Inject Groundtekr resin;
done Fill holes and clean up;
timeline Dig out ground below and around property to depth of 1-2m;
timeline Pour new foundations or dig piles;
timeline Wait for concrete to set;
timeline Cover new foundations;
timeline Re-landscape and replace paths/drives;
euro_symbol euro_symbol Varies by property — quote;
add euro_symbol euro_symbol euro_symbol Varies by property, varies by property and supplier;
check_circle_outline Fixing any damaged drains/tree roots which caused problem;
check_circle_outline Crack repairs and decorations;
highlight_off Fixing any damaged drains/tree roots which caused problem;
highlight_off Crack repairs and decorations;
highlight_off Accommodation costs during works;
highlight_off Landscaping costs and re-laying paths;
money_off No need to move out;
money_off Truck can be parked on road up to 100m away;
euro_symbol Often need to move out during the works;
euro_symbol Often need to clear rooms and lift floors;
euro_symbol Access needed for construction equipment;
euro_symbol Major groundworks;
euro_symbol Skips required to dispose of soil;
euro_symbol Significant noise and mess from digging;
check_circle NO NEED TO DECLARE WORKS;
check_circle 100% of market value;
remove_circle MUST BE DECLARED AS A PREVIOUSLY UNDERPINNED PROPERTY (PUP);
remove_circle 80% of market value;
The Solution: A Resin Injection Process
Our ground improvement solution is an engineered procedure, whereby the bearing capacity of foundation soils is either continuously improved down to considerable depths or just at one specific depth, by the injection of expanding geopolymer resins. The procedure allows densification and compaction of the soil directly under a building, without the need for excavation, vibration or mechanical force.
Groundtek ground improvement can be a fast and cost-effective alternative to piling and underpinning. It's achieved by the controlled application of the forces generated by the expansion of unique Groundtek geopolymer. Ground improvement, carried out by the team at Groundtek, is a convenient and reliable process which enables customers to continue their normal operations during remediation works, saving you time and money.
The process for ground improvement solutions starts with surveying the soil conditions to determine how deep into the soil we need to inject the geopolymer. The composition of the soil also needs to be thoroughly analysed, so that any obstacles in the soil are uncovered before injection begins.
Next, a series of small holes is drilled through the slab or soil to facilitate the injection of the geopolymer resin. Geopolymer is then injected to the desired depth directly below the foundations, binding with the underlying soil and, where appropriate, raising the foundations to the desired height. Our solution is durable and effective, resulting in ground improvement that will last.
loupe Advantages
If you want more information about our services, or if you are wondering if our solutions could be the right solution for your object, fill out the contact form and one of our experts will be in contact with you.
The Benefits of Groundtek's Solution
list_alt
The Benefits of Groundtek's Solution
Our solutions provide the same benefits for commercial, industrial, residential and public buildings, as well as infrastructure and historic structures.
business_center
No Disruption to Everyday Life
Our systems and solutions offer an almost distraction-free site allowing residential, business and commercial buildings to keep running with no downtime. This saves you both time and money as everyday operations can continue running at full capacity.
history_toggle_off
Fast Solution
Our systems are built on efficiency. Every step of the stabilisation process is expedited and some projects can be completed in just a single day. Some of the alternative subsidence and ground repair methods can take weeks and even months to finish.
fact_check
Designed to Last
Our rapid services have a proven track record when it comes to reliability and stability. Our technologies have been providing long lasting solutions throughout Europe, The Americas and Australia for over three decades with durable and time-tested results.
design_services
Adaptable and Functional
Our systems provide a new level of support to uneven slabs, repairing damages that have occurred over a number of years. We offer services for all types and sizes of building. Groundtek can revive foundations back to their original quality and capacity, no matter the type or purpose of the building or structure.
speed
Fully Manageable Systems
Unlike traditional techniques, our geopolymer approach doesn't rely on an abundance of hydraulic pressure which can sometimes get a little uncontrollable. Instead, boundaries are raised with complete control resulting in a much-reduced chance of damaging or breaking slabs.
speed
Strong Structural Capabilities
Technology from Groundtek allows for massive lifting capabilities. Our systems provide a solution for even the most demanding of circumstances. Anything up to 40 tonnes per square metre (400kPa) can be delivered by our incredibly strong and vigorous remediation solutions.
engineering
Architecturally Friendly
Thanks to the advanced nature of Groundtek's solutions, buildings don't always have to be lifted to be repaired. In some cases, a number of very small sized holes can permit geopolymer resins to be injected through floor coverings and finishings should lifting not be a feasible or necessary option.
eco
Environmentally Friendly
All services, solutions and products have been officially certified as having no negative impact on the environment. They also require no excavation or disturbing of laying ground resulting in a more eco-friendly underpinning method than the excavation-heavy alternatives.
HOME CORNER STABILIZATION
HOME CORNER STABILIZATION
After investigation of the residential building, week soil was found…
STRENGTHENING OF THE FOUNDATION OF A HISTORICAL BUILDING
STRENGTHENING OF THE FOUNDATION OF A HI…
The administrative center of the Belarusian Orthodox Church, which is…